Professional Refrigerator Repair Services in Keller, TX
Refrigerator Repair and Services
When you need to repair your refrigerator, Ace's Appliance & Repair is here to help. We offer professional refrigerator repair services to all customers in the Keller area. We are a family-owned business that has been serving our community for over 20 years, and we take pride in our ability to get your refrigerator back up and running again.
The Most Common Refrigerator Problems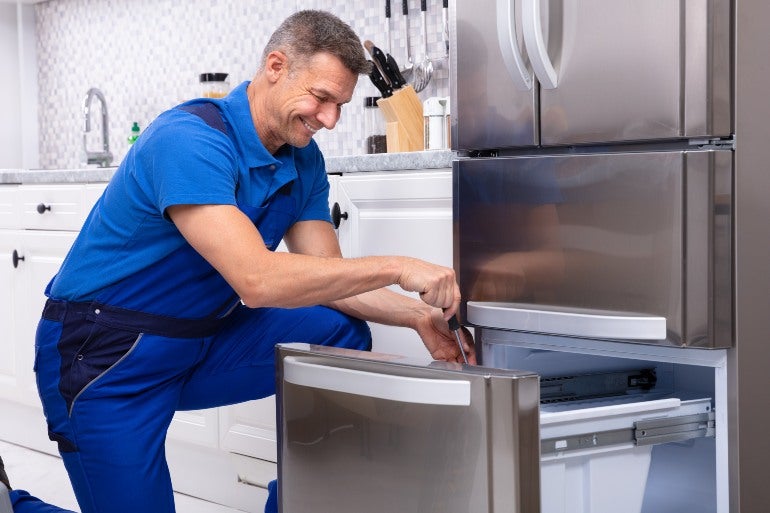 If your refrigerator isn't working at all (i.e., it's not cold and the light won't come on), first check to make sure it has power. To do this, unplug the refrigerator and wait 10 minutes. Then plug it back in and see if it works. If so, you may need to replace your circuit breaker or fuse.
If your circuit breaker or fuse checks out and is working properly, then start with these simple fixes:
Check that the door is closed properly and that there aren't any food items blocking the vents.
If there are food items blocking the vents, move them out of the way so they don't prevent proper airflow through the fridge door opening.
Check whether there are any loose wires inside your refrigerator or freezer—this can cause a loss of cooling power as well as a loss of light inside your fridge.
Should You Repair or Replace Your Refrigerator?
It's a question that comes up all the time, especially when it's time to replace an old appliance: should you repair it or replace it? It can be tough to know what the best choice is for your needs.
If you're thinking about repairing your refrigerator, here are a few things to keep in mind:
If you've had problems with your fridge for years and you've never been able to fix them, then maybe it's time to think about replacing it.
If parts are available for your model but they're expensive and hard-to-find, then you might want to consider replacing it instead of repairing the old one.
If the cost of repairing your fridge is close to what a new one would cost, then it may be worth getting a new one instead.
How Long Does a Refrigerator Repair Job Take?
The cost of a refrigerator repair is going to depend on several factors, including the age and make of your unit. New refrigerators can run anywhere from a few hundred to a couple of thousand dollars, while older models tend to be more affordable. If your repair estimate is more than half of the cost of a similar unit, it might be more cost-effective just to replace it with a new one. But you may also be surprised at how affordable a professional appliance repair service can be.
Call Us Today
Don't let your refrigerator ruin your day. Ace's Appliance & Repair is here to help you get your fridge back in working order, and we'll do it fast. Call us today at 817-788-5200 to schedule an appointment with one of our technicians, who can repair any issue that comes up with your refrigerator.