Water Heater Repair in Keller, TX
We Will Ensure Your Water Heater Works Optimally
Your ability to enjoy a hot shower or wash dishes and clothes effectively depends on a reliable water heater. This appliance is among the most important in your house. To ensure that it operates optimally, you should rely on Aces Appliance & Repair for water heater repairs, maintenance, and replacement. We have been serving homeowners in Keller, TX, and the surrounding area for more than 20 years. We are adept at all types of appliance repairs, but water heater repairs are among our specialties. Regardless of its style or brand, we have the expertise to restore your water heater so that you can enjoy all of its benefits for years to come. If you notice a specific problem or a gradual decline in performance, call our service professionals for troubleshooting and repairs.
Our Team Repairs All Types of Water Heaters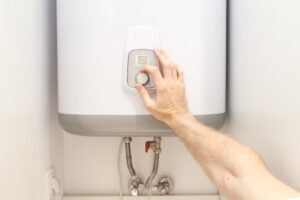 There is a wide range of water heater styles on the market today. Each has specific benefits, meaning there is no one-size-fits-all solution for homes and families of different sizes. To ensure we can serve all of our customers, our technicians are knowledgeable about the intricacies and differences of all water heater varieties, including:
Gas – A gas water heater typically has lower monthly energy costs and heats water faster, but it requires more maintenance than its electric counterpart.
Electric – There are minimal safety concerns with an electric water heater and low upfront costs, but it will not operate during a power outage and there are no high-efficiency models available.
Tankless – If you do not have space for a large storage tank, this style will directly heat your water. These are best for homes without high-volume water usage.
Signs You May Need Water Heater Repairs
In many cases, you will recognize the need for hot water heater repairs instantaneously. If you attempt to draw a bath and get nothing but chilly water, you will know something is amiss. But other signs you may need water heater repairs are subtler. Aces Appliance & Repair can inspect your unit to ensure it is running at its best, but call us if your water heater is:
Not supplying adequate hot water – A decline in water heater performance may be signified by hot water that does not last as long as it once did.
Taking a long time to heat water – If you find yourself waiting several minutes for hot water, it is time to call the professionals.
Leaking from the tank – Small pools of water around your water heater are indications that repairs are necessary.
Making unusual noises – You are surely accustomed to some noises emitting from your water heater, but you should call us if they become louder or more frequent.
Benefits of Water Heater Repair Services
Aces Appliance & Repair understands the importance of having hot water coursing through your pipes. It is essential for bathing, cooking, and cleaning. On-demand hot water is the most obvious benefit of water heater repair services, but it is not the only one. Others include:
Improved water heating efficiency – Following our repair services, you will receive hot water from the faucet or showerhead quickly.
Cost savings – Maximizing your water heater's efficiency will lead to savings on your monthly energy bill and more.
More hot water – Rather than having minimal hot water with which to clean or bathe, we can restore your reserves so that hot water lasts for longer.
We Provide Water Heater Maintenance Services
While the team at Aces Appliance & Repair is confident we can fix any issues with your water heater, the best way to safeguard against the need for repairs is routine maintenance. We can visit your home in Keller, TX once a year to provide preventative maintenance and identify any problems before they worsen. During our process, we will test your valves and moving parts, drain sediment from the water heater tank, and ensure safety and efficiency.
Why You Should Choose Aces Appliance & Repair
We have been a staple in the Keller, TX community for more than two decades. During that span, we have earned a reputation for providing exceptional customer service and high-quality workmanship regardless of a project's scope. We are committed to making your life easier by delivering appliance repairs on which you can rely. But to make matters better, we are equally committed to saving you money. Take advantage of our web promotions when you request your next repair or maintenance services.
Contact Aces Appliance & Repair Today
A warm bath and hot water to clean your clothes or dishes are luxuries we have come to expect in our homes. These amenities depend on a properly functioning water heater. If something goes wrong with your unit, trust Aces Appliance & Repair to restore order. We offer first-rate water heater repairs and maintenance services to customers in Keller, TX, and the surrounding area. Contact us today to schedule a visit from one of our professionals.