Microwave Repair in Keller, TX
Our Professionals Can Repair Your Microwave Oven
When your hectic life necessitates a quick meal that you can prepare in a flash, your microwave oven can be extremely beneficial. If it works correctly, you can heat leftovers or a ready-made dinner in minutes. However, if something goes awry, you will want to fix your microwave right away. Aces Appliance & Repair provides microwave oven repair services in Keller, TX, and the surrounding area. We have been a staple in the community for more than two decades. In that time, we have become experts in servicing and repairing microwaves from all the leading manufacturers. Whether your microwave is not heating, the touchpad is malfunctioning, or the unit is experiencing some other type of problem, we can help. Call us to discuss your microwave's issues and request microwave oven repair services today.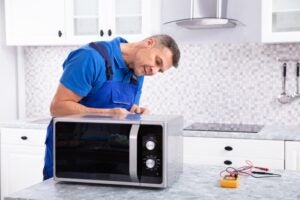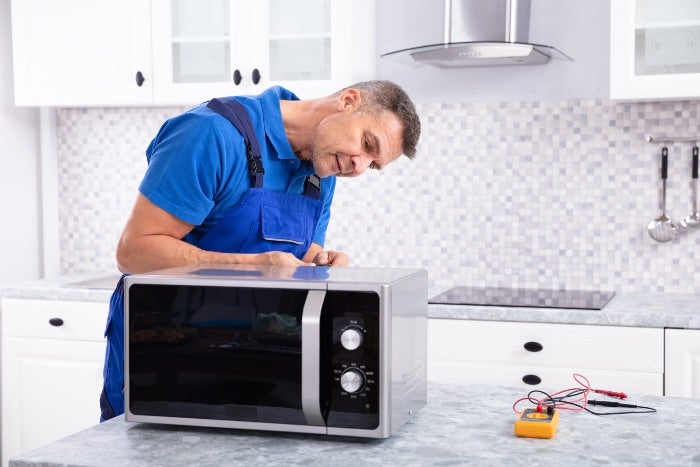 Types of Microwave Ovens We Repair
Microwaves come in a wide array of shapes, sizes, and settings. Regardless of what style you have in your home, you can rely on Aces Appliance & Repair for help. We have the expertise to repair microwave ovens of all varieties, including:
Countertop – These standalone microwaves are easily accessible and allow our service professionals to quickly identify and repair a problem.
Drawer-Style – Microwaves that fit snugly into your cabinets or kitchen island are aesthetically pleasing, but they are sometimes difficult to assess and repair. Our experts are up to the task.
Over-the-Range – This style of microwave is mounted on the wall above your oven. It is more complex than its counterparts and is also prone to ventilation issues.
Built-in – A built-in microwave is stylish, but many of its components may be challenging to access. Our professionals know all the tricks of the trade, so trust us if there is a problem.
Microwave Brands We Commonly Service
Aces Appliance & Repair has been in the service industry long enough to develop expertise about all of the major appliance manufacturers. From the most popular styles of microwaves to smaller brands, we can repair them all. Let our team know if you have an issue so that we can quickly address it. Among the brands we commonly service are:
Viking™
Whirlpool™
SubZero™
Maytag™
Jenn-Air™
Hotpoint™
Kenmore™
Kitchen-Aid™
Norge™
Frigidaire™
Wolf™
Electrolux™

Roper™
Thermadoor™
Pappan™
Bosch™
Marvel™
Amana™
U-Line™
Samsung™
GE™
LG™
Magic Chef™
Common Microwave Oven Issues
No microwave problem is too small or too complicated for us. You can trust our team with any issues that arise. In some instances, you may be aware of what has gone wrong immediately. Other times, it may be a gradual decline in performance that prompts you to call our professionals. Either way, we will quickly troubleshoot your problem and determine the best way to address it. Common microwave oven issues that we repair include:
The microwave is not working – Many customers in Keller, TX call us for help when their microwaves simply do not work. Do not worry. We will determine why and provide a solution.
There are sparks inside the microwave – If your microwave sparks, that does not necessarily mean it has gone bad. This could happen due to a damaged waveguide cover, diode burns, worn-out paint from the inside walls, or damaged rack support.
The turntable is not rotating – This typically happens as the result of a worn-out or burned motor. If so, the fix is quick and easy.
Microwave is not heating food – This is a common problem in aging microwaves, but the solution is often simple. To fix this issue, we may only need to replace the unit's magnetron.
The touchpad only works intermittently – This is a sign that the touchpad or control panel is defective. We can repair either component to restore order to your microwave.
Why You Should Choose Aces Appliance & Repair
Our locally-owned and -operated company has been serving customers throughout Keller, TX, and the surrounding areas for more than 20 years. We have developed a rapport with our customers and expertise in appliance repair that is unmatched in the region. Our team is licensed and insured to give you peace of mind that your repairs will be done efficiently and correctly. Our process involves quickly troubleshooting your issue and determining a long-lasting solution to repair your microwave oven. We are dedicated to exceptional workmanship and customer service, so you will always feel like a priority. We also want to ensure your project is affordable, so please peruse our web promotions before giving us a call.
Contact Aces Appliance & Repair Today
Access to an efficient microwave is critical for heating quick meals at home. If your countertop, built-in, or over-the-range microwave malfunctions, you need a professional to repair it quickly so that you do not have to resort to cold dinners. The experts at Aces Appliance & Repair are adept at repairing all types of microwaves in Keller, TX, and the local community. If a problem arises with your unit, contact us for quick, reliable service.