Range Repair in Keller, TX
Our Electric Oven Repair Services
Aces Appliance & Repair provides top-notch appliance repair services in Keller, TX. Range repair and oven repair are two of our specialties. Many people assume their appliances are done for when they develop problems. We can assure you that this is not the case. The next time you have trouble with your oven or range, contact our team. Our technicians know how to repair almost any issue and return your appliances to good working order. As a locally owned company, we are invested in our community and work hard to develop relationships with our customers. Our work ethic and professionalism speak for themselves. Allow us to repair the damage immediately.
The Signs That You Need Appliance Repair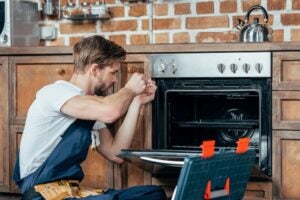 You spend a lot of time in your kitchen preparing meals for your family or yourself. So, chances are you can tell when there is an issue with your oven or range. But when should you call Aces Appliance & Repair for service? That's another question entirely. Fortunately, we have the experience you need to answer that question. Ranges and ovens often develop issues as they age, including:
Burner That Will Not Turn On: One way to troubleshoot this issue on your own is to swap the burner with another one. Doing so will tell you whether it is the burner, the receptacle, or the switch. At that point, our technicians can help.
Burners That Are Too Hot: Burners that are too hot represent a potential safety issue, so it is essential to fix the problem immediately. Usually, it is an easy fix. The most common cause? A faulty switch, which we can swap out for you.
Indicator Lights That Stay Lit: Indicator lights play a vital role in the workings of your oven or range, and it is important to keep them running correctly. A bad or damaged switch usually causes problems with indicator lights.
Oven Doors That Will Not Open: Often, the self-clean latch breaks, causing issues. Often causes include a defective clock or oven control functions. Whatever the reason, we can locate it and implement an effective solution.
An Oven That Will Not Self-Clean: If you have a self-cleaning oven, and it is not cleaning on its own, it is likely caused by a defective or damaged self-clean latch or a function selector.
The Oven Is Not Heating Correctly: The cause of this problem ultimately depends on the make and model of your oven. We will have to perform an inspection to get to the root of the issue and resolve it.
An Oven That Produces Uneven Temperatures: This is a common issue caused by any one of three things: A bad bake oven igniter, temperature sensor, or selector switch.
Electric Range Repair and Much More
So, once you have discovered an issue with your stovetop or oven, the time has come to fix it. Call Aces Appliance & Repair, and we can get started immediately. We perform both oven and stove repairs on all manufacturers. We can adjust to any situation and deliver satisfactory results in a timely fashion.
Oven Repairs: Ovens come in varied styles and sizes. Our technicians are more than familiar with every manufacturer, giving them the ability to repair any issue on any oven. We also understand the differences between gas and electric ovens and how to repair the two types of ovens.
Stove Repairs: Aside from the refrigerator, the stove is the most used appliance in most homes, so it is crucial that it run correctly. We understand how to repair issues on both gas and electric stovetops. More importantly, our team is familiar with all brands.
Varied Appliance Repair Services
At Aces Appliance & Repair, we strive to deliver unique and satisfactory appliance repair services to all our clients. No matter how difficult the repair, you can count on us to discover the problem and implement a solution – all at an affordable cost. More importantly, we can work with all the big names in the stovetop and oven industry – from Whirlpool™ to GE™. In addition to stoves and ovens, our team can handle refrigerators, ice machines, freezers, garbage disposals, microwaves, water heaters, wine coolers, and much more. Our versatility and ability to address numerous challenges are our greatest assets. Where our competitors limit themselves, we continue to broaden our horizons and offer more services.
You Can Do No Better Than Us For Range Repair
At Aces Appliance & Repair, you can count on an unmatched measure of customer satisfaction. Our representatives are courteous and respectful of your property and always make the correct fix quickly. They are passionate about what they do and genuinely enjoy restoring their customers' property to working order. If you are experiencing problems or need range repair, you can do no better than reaching out to us. Contact us today for more information.