Garbage Disposal Repair in Keller, TX
We Can Restore Your Garbage Disposal
Functioning garbage disposal in your home is a luxury that many take for granted. Rinsing food and crumbs off of your plates and bowls into your sink's drain is a crucial element of doing the dishes. If your garbage disposal is not working properly, the clean-up process changes dramatically. Aces Appliance & Repair aims to keep your garbage disposal in pristine shape with repairs and maintenance services whenever you need them. We have been serving customers throughout Keller, TX, and the surrounding area for more than two decades. Over that time, we have developed an acute awareness of potential problems as well as ways to address them. Call us today to discuss issues with your appliance or request a visit from our service professionals.
Types of Garbage Disposals We Repair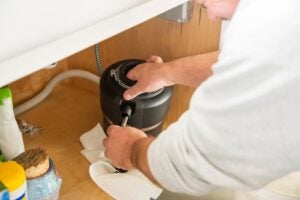 There are two styles of in-sink garbage disposals currently available. The professionals at Aces Appliance & Repair have been trained to address issues with either. We are adept at remedying problems of all varieties for:
Continuous-Feed Disposals – This is the most common type of garbage disposal. It allows you to add food particles even during operation.
Batch-Feed Disposals – A batch-feed disposal works similarly to its continuous-feed counterpart, but it must be closed to operate. Therefore, you cannot add food during the process.
Common Garbage Disposal Issues
Over the years, the team at Aces Appliance & Repair has seen it all when it comes to garbage disposals. Though most disposals are durable and long-lasting, the nature of their operation leaves them prone to a wide variety of problems. Among the common garbage disposal issues we address are:
Garbage disposal is not working – You may not understand why your garbage disposal is not working. You merely know it is not doing its job. Call us so that we can get to the bottom of your problem.
Garbage disposal is jammed – If something is jamming your garbage disposal's blades, we will carefully identify the culprit and remove it for you.
Garbage disposal drain is clogged – Just like your sink may clog, the garbage disposal is vulnerable to similar issues. We can take several measures to remove the clog and restore order.
Garbage disposal is making excessive noise – Unusual noises may be the result of an object being stuck or parts moving incorrectly. Either way, we can remedy the problem.
Garbage disposal is leaking – This could happen due to a faulty sink flange, hose, dishwasher connection, or drainpipe.
Garbage Disposal Brands We Commonly Service
Most major appliance manufacturers have designed and marketed garbage disposals. We have experience working with them all, so you can rest assured we will be able to fix whatever is wrong with yours. The garbage disposal brands we commonly service include:
Viking™
Whirlpool™
SubZero™
Maytag™
Jenn-Air™
Hotpoint™
Kenmore™
Kitchen-Aid™
Norge™
Frigidaire™
Wolf™
Electrolux™

Roper™
Thermadoor™
Pappan™
Bosch™
Marvel™
Amana™
U-Line™
Samsung™
GE™
LG™
Magic Chef™
Our Team Performs Garbage Disposal Maintenance
You take your car to a mechanic for an inspection every year. You visit a doctor for an annual physical. Soliciting garbage disposal maintenance should be no different. Garbage disposal needs regular attention, just like your plumbing. Aces Appliance & Repair performs garbage disposal maintenance services in Keller, TX. We can help you avoid clogs, maintain optimal operation, and keep your garbage disposal's parts in pristine shape. Call us today to learn more about our process.
Ways to Care for Your Garbage Disposal
Between visits from our experts, you can help maintain your garbage disposal by following a few easy tips. You will not have to rely as heavily on routine maintenance or costly repairs if you follow our suggestions, which include:
Use cold water when operating your garbage disposal
Break up large objects before grinding them
Avoid putting bones, grease, or items made from plastic, metal, or glass in your garbage disposal
Grind ice cubes to sharpen blades
Keep your disposal clean by periodically adding dish soap
Why You Should Choose Aces Appliance & Repair
Aces Appliance & Repair has more than 20 years' worth of experience repairing and maintaining garbage disposals in Keller, TX. Our family-owned and -operated company is dedicated to providing high-quality craftsmanship and customer service. We train our technicians to be proficient with all styles and brands of garbage disposals, and we provide updates with every innovation. In addition to our first-rate service, we want to keep your garbage disposal repair costs low. Review our web promotions for cost-saving deals.
Contact Aces Appliance & Repair Today
Being able to quickly funnel your food scraps into the drain as you do your dishes makes cleaning up after meals simple. But you need a reliable garbage disposal to make that happen. Aces Appliance & Repair provides garbage disposal repair services in Keller, TX to help you maintain your unit. Our technicians are adept at performing all types of repairs, so contact us today to schedule service.